Aseptic Sanitary Sample Valve With PTFE Gaskets , Sanitary Pneumatic Valve
Certification:

3A, SMS, DIN

Model Number:

CX-SPV-02

Minimum Order Quantity:

1pc

Prices:

Depends on the qty.

Packaging Details:

Plastic bag, carton and plywooden case

Delivery Time:

7-15 working days

Payment Terms:

L/C, T/T

Supply Ability:

20000 sets per months
Contact Now
Detailed Product Description
Pressure:
Medium Pressure
Power:
Pneumatic,Manual
Temperature Of Media:
Normal Temeprature
Media:
Water, Milk, Juice, Beer, Dairy, Pharmaceutical
Origin:
China
High Light:
aseptic sampling valve , liquid sampling valve
Material of Product Wetted
316L (DIN-1.4404)
Material of Non-product Wetted
304 (DIN-1.4301)
Seal material
PTFE/Silicone,PTFE/FPM (PV-1),PTFE (PV-2)
All seal materials comply with FDA 177.2600.
Continuous working temperature
-20oC +135oC (EPDM)
Sterilization temperature
150oC (Max 20min)
Working pressure
0~10bar
Internal surface
Ra0.8μm
External surface
Shot blasting
Size
1/4"~1"
This sanitary aseptic sampling valve can be opened either by manual handle or with its pneumatic actuator. The valve stem and diaphragm seal unit retract when the sample valve is open, to let the material sample flow out. The PTFE diaphragm is optimal for high viscosity mediums. Sanitary pneumatic samples valves are often used for sample extraction in production of food, beverages, pharmaceutical and many other hygienic industries.
1. It has both manual and pneumatic operate mode, much more convenient
2. All three connection ends are tri clamp, for fast installation and disassembly
3. Sterilization process available to keep valve chamber in extremely aseptic condition
4. Strong ability resistant against medium contamination or corrosion
5. Clamp ends meets DIN11850 SMS, DIN11864, DIN11851, BS, ISO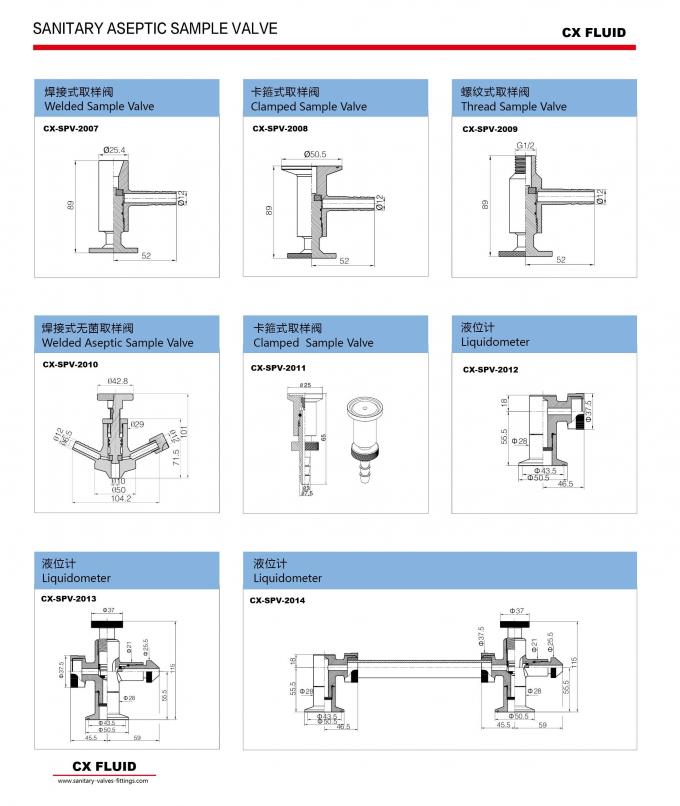 Feedback